Frozen desserts for professionals are the absolute best ! Loved by everyone, many flavors available, gluten free, possibility to be vegan… Ice cream mochis are the best option for you as a professional. Easy, great taste, colorful, tik tok buzz… No reason to skip mochis for your restaurant or brand !
Making mochi for professionals is a very special business. Indeed, fresh mochi or iced mochi is coated with a paste of glutinous rice. This is the typical aspect of mochi, which stems from its Japanese tradition. That's why not all frozen dessert companies or professionals are able to offer it! The rice paste, which melts in the mouth, has to be perfect. That's why Tiliz has worked and reworked its recipes, to obtain delicious, incomparable iced mochi and fresh mochi.
Frozen desserts for professionals: mochi by Tiliz
Tiliz's mochi creations are mainly for professionals. We offer different products to suit your needs. If you're a restaurant owner or caterer, for example, we can add iced mochi made in France to your menu. Ideal for events such as weddings, christenings or bar mitzvah desserts, artisanal mochi is a delight.
Different mochis are available to satisfy your customers' taste buds. Whether chocolate mochi or coconut mochi: it's up to you to choose the flavors your customers prefer!
Different mochis exist to satisfy your customers' taste buds. Whether chocolate mochi or coconut mochi: it's up to you to choose the flavors your customers prefer!Dessert for professionals
Dessert is a key moment in a restaurant meal. It's often the gourmet part of the meal, but it's also a time for freshness. Remember, it's the last impression you leave on your customers. An artisanal mochi is the perfect mix of ice cream and originality.
Dessert is important in a restaurant: it brings the meal to a close! It provides the final taste experience for guests. It also allows the chef to demonstrate his creativity and culinary know-how, while leaving a positive final impression. Many customers are inclined to order desserts to complete their meal, so it's a key moment not to be overlooked.
The creation of mochis de Tiliz was born of several skills, but above all of know-how in the marketing and manufacture of snacking products. Tiliz's mochi production is based in Brittany, so we're not just a wholesaler of iced mochis! As a French mochi manufacturer, we produce our products in Morbihan.
Foodservice professionals: mochi
Frozen mochi is ideal for catering professionals! It's easy to prepare and serve. Store it in the freezer, and take it out just before serving. It requires very little handling in the kitchen, making it the perfect dessert for your establishment. Buffet, fast-food, store, gluten-free restaurant, canteen, guinguette… Frozen mochi is perfect for any type of catering professional. Also, the shelf life of mochi makes it a practical choice. It can actually be stored for many months.
Pssttt… Restaurant professionals, follow us on Linkedin to keep up to date with our latest news!
Visually, mochi is gourmet and its unique texture makes it a particularly interesting dessert. Finally, iced mochi is generally adored by a wide range of customers because of its sweet flavor and chewy texture, making it a great choice for restaurants.
Making mochi for professionals: catering
Why not add mochi to your buffet? ☝️
Professionals in the RHF sector (hotels, restaurants, catering, events, etc.) love iced mochi! How about you?
Making mochi for professionals: made-to-measure mochi!
For a few months now, Tiliz has been offering you the chance to create your own mochi! A heart-shaped iced mochi, a star-shaped iced mochi, a heart-shaped iced mochi… It's up to you! Whether it's for Christmas, Valentine's Day or any other occasion, don't hesitate to add new products to your menu. For a made-to-measure mochi, you can even customize the ice cream recipes! You can create your own custom-made vegan or gluten-free mochi according to your preferences.
We also offer fresh mochi! Particularly tasty, they are greatly appreciated for their fresh, gourmet taste.
Create your own brand of mochi !
For several years now, brands have been offering products derived from their flagship flavor. For example, a chocolate spread brand might offer ice creams or cakes with a chocolate hazelnut flavor! So why not create a chocolate spread mochi? If you're a chef, restaurateur or catering company, custom-made mochi could be of interest to you!
Desserts for foodservice professionals
Professional desserts in the food sector are designed to meet the specific needs of restaurants, hotels, caterers and other food service establishments. Here are just a few examples of the desserts offered in this sector!
Assorted mini desserts: Small portions of different desserts, ideal for buffets and events.
Pies and cakes in individual portions: Pies and cakes prepared in individual portions for easy serving.
Classics: crèmes brûlées, profiteroles, tiramisu, mille-feuille, panna cotta, fruit tarts, chocolate fondant…
Café gourmand: An assortment of mini desserts served with a cup of coffee. Now's the time to add an iced mochi to this assortment!
Gluten-free and lactose-free desserts: Special options to meet customers' dietary needs. For example, a vegan and gluten-free mochi as we know how!
Frozen desserts for professionals such as ice-cream or ice cream mochis !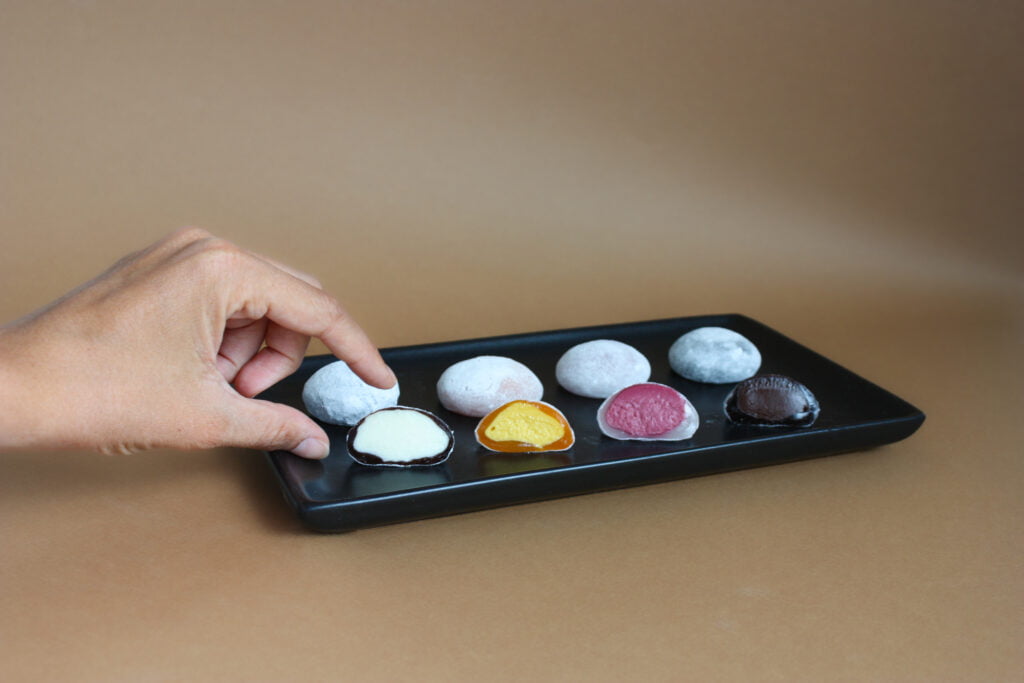 Of course, desserts need to be adapted to suit the style of the establishment and the clientele. For example, a fast food or take-away store might leave mochi available for customers to serve themselves. However, an Asian fusion restaurant might serve mochi on a black plate, accompanied by fresh fruit and other gustatory decorations!
Finally, Tiliz is a mochi wholesaler, but above all a French manufacturer of frozen desserts for professionals. Mochi making for professionals is our expertise: contact us to discuss your needs! For example, fresh mochis, iced mochis, iced macaroons, vegan desserts, gluten-free desserts, mochi cookie dough, daifuku… We're bound to find a product that will appeal to your customers and win their loyalty.